VMware Full and Incremental Backup
VMware Full and Incremental Backup
IDrive provides you the best VMware backup solution – with full and incremental backups. It supports VMware vCenter and ensures complete data protection for your virtualized environment.
Features
Backup multiple virtual machines in VMware ESXi (5.5, 6.0, 6.5, 6.7, 7.0, 8.0), vCenter (6.0, 6.5, 6.7, 7.0, 8.0)
Supports VMware incremental and scheduled backup
Allows network computers, or network-attached storage (NAS) location as the destination for your backup - in addition to cloud backup
Zero downtime with virtual machines hot backups
Enhanced security with 256-bit AES encryption on transfer and storage with a user-defined key that is not stored anywhere on IDrive servers
Use in conjunction with VMware vCenter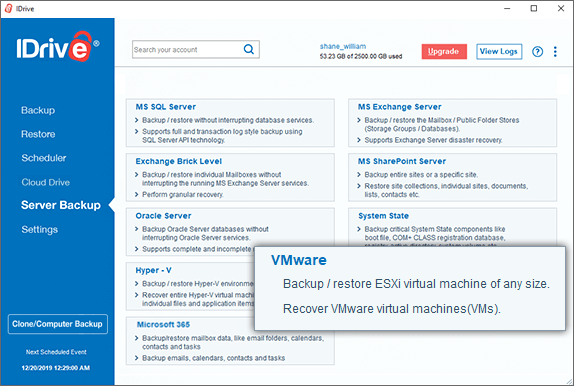 Backup your VMware environment with features like incremental backups and scheduled backups.
View the steps to backup VMware.
Easily restore your VMware virtual machines from your IDrive account.
View the steps to restore VMware.
System Requirements
ESXi 5.5 , ESXi 6.0, ESXi 6.5, ESXi 6.7, ESXi 7.0, ESXi 8.0
Windows 64-bit operating system
2 GB RAM
Sufficient hard disk space to store the virtual machine files for temporary backup and restore
Protect your organization's data with secure online server backups
Starts at $99.50/year $74.62 for first year
SIGN UP NOW!