Easy, Secure and Reliable Data Protection for Hyper-V Environment
Easy, Secure and Reliable Data Protection for Hyper-V Environment
As businesses are turning towards virtualizing their physical environment to reduce cost, the importance of backup becomes critical. IDrive Hyper-V Backup is an easy, secure and one of the most reliable solutions to backup your entire Hyper-V environment. To make your Hyper V backup as simple as the environments themselves, we have come up with convenient features like...
Features
Simple and easy-to-use interface.
A single backup and recovery solution to protect your virtual environment.
Supports incremental backup for local and cloud backup (Windows Server 2016 or later).
Hot backups with MS VSS Integration: Backup live Hyper-V VMs with zero downtime by leveraging Microsoft's VSS Hyper-V Writer.
In addition to backing up your data in the cloud, you can also select a network mapped drive or network-attached storage (NAS) drive as the destination for backup.
Reduce complex methods for protecting virtual machines.
Instant restore of all servers in virtual environment.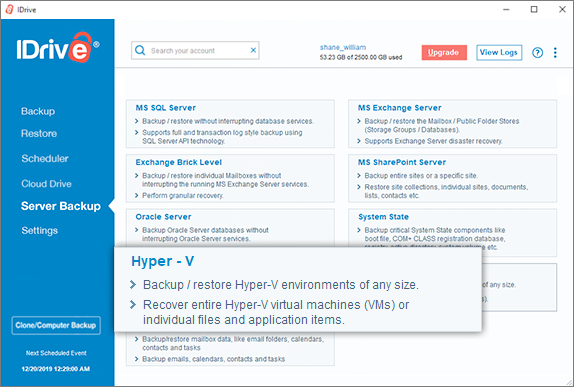 Backup your Hyper-V environment with convenient features like single step backup process, Instant restore and high security.
View the steps to backup Hyper-V.
Quick and easy restore of your backed up Hyper-V virtual machines using IDrive's cloud based technology.
View the steps to restore Hyper-V.
System Requirements
Microsoft Hyper-V Server 2008 R2 SP1, Microsoft Hyper-V Server 2012, Microsoft Hyper-V Server 2012 R2, Microsoft Hyper-V Server 2016 and Microsoft Hyper-V Server 2019
Windows 2008, Windows 2012, Windows Server 2016, Windows Server 2019, Windows Server 2022
2 GB RAM
Sufficient hard disk space to store the virtual machine files for temporary backup and restore
Protect your organization's data with secure online server backups
Starts at $99.50/year $74.62 for first year
SIGN UP NOW!