Install

1. Download the IDrive application
2. Install it in your App Central


Launch and login

1. Launch the app from the App
Central
2. Log in to your IDrive account (incase if you don't have one, then sign up)

Backup data

1. From the backup tab, select the
files/folders you wish to backup
2. Perform interactive backup or schedule
it as required

Secure

Your files are protected during transfer and storage, using 256-bit AES encryption with an optional private key.
Protecting NAS devices such as Asustor is perhaps not considered necessary by many, as these devices are popular for their exceptional performance and test scores. But the fact is that, devices like Asustor can also be subjected to a hard-drive crash, a RAID array failure, or can even be stolen, burnt or destroyed. So like any other device, backing them up is equally essential to keep your business up and running. This is where IDrive can help protect your NAS devices, with numerous benefits including version-based data recovery and more.
IDrive has separate Asustor app that can be installed on the respective NAS devices for safeguarding data. To do so, you must first download the application from the website and install it on the NAS device and start transferring your data to the cloud. Backing up your NAS device to IDrive's cloud protects your data in an affordable, secure and easy manner. With the IDrive Asustor app, you can also schedule automatic backup jobs, perform manual backup and restores, receive email notifications on completion of all scheduled data transfer operations and view log details.
Features
Files are encrypted during transfer and storage, using military grade 256-bit AES encryption, with an optional private key.
No data is deleted from your IDrive online account until you manually delete them or run the 'Archive Cleanup' option.
Schedule and automate data backups.
Track your IDrive account activities via logs.
View the Installation Steps
Enable web services on your NAS device prior to the Asustor Backup App installation.
Pre-requisites
To enable web services,
Navigate to Services > Web Server.
Select the Enable Web Server check box.
Click Apply to save the changes.
To install,
Login to your Asustor NAS device as 'admin'.
Navigate to App Central > All Apps.
Search for IDrive.
Click on the IDrive Thumbnail and go to the details page.
Click Install. After installation, the IDrive App will be listed in App Central under My Apps > Installed tab.
To start the application, click the IDrive App > .
To uninstall,
Navigate to App Central > Installed tab and click .
Asustor Express - Faster Bulk Data Transfers via Physical Storage Shipment
A physical storage shipment solution by IDrive for NAS users to backup and retrieve huge amounts of data, within a week or less.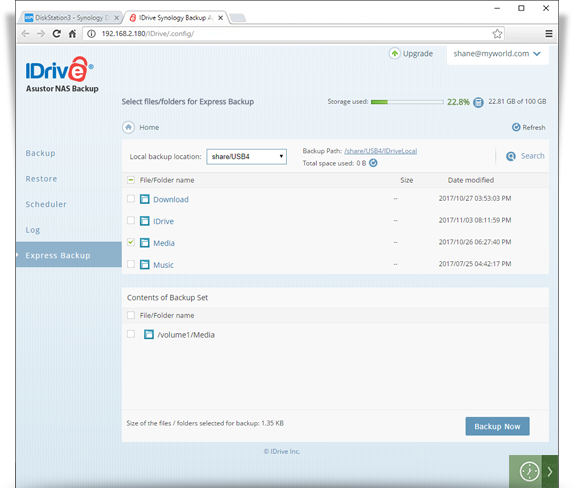 Why do you need Asustor Express?
Transferring large amounts of data from your Asustor NAS devices to your online account, can be done in less than a week's time.
To ensure data security throughout transfer and storage process, your files are protected with military grade 256-bit AES encryption and an optional private key.
On completion of initial data transfer to your IDrive account via express device, you can perform incremental backups.
Data transfer via express device ensures no consumption of bandwidth.
This service comes FREE for Express Backup, once a year for Personal users and thrice yearly for Business users. Subsequent backup requests will be subject to the $59.95 charge. Express Restores will be charged $99.50 per request.
This service includes free return shipping for customers within the USA. Express orders shipped outside the United States may have additional shipping costs. Upon placing the order, our team will provide a shipping quote that will be charged separately.
Backup & Restore via Asustor Express
Data Backup

Once you receive the express storage device, you can transfer data on your NAS device to it. The data is then backed up to IDrive's primary storage devices.
Perform instant restores with express restore. All your backed up data stored in the IDrive cloud account is transferred onto the express storage device, which you can restore to the NAS device.