Online File Sync and Share
Sync files in real time across linked devices and share them with anyone you wish!
Take a tour
File Sync in IDrive is similar to a folder you carry in your flash drive everywhere, except for the fact that there is no flash drive! You will have access to your most critical data from any device, in a form as if it is on your local drive, and on your IDrive account.
The moment you modify files, the updates sync to the local drive of computers on which Sync is enabled and to your cloud account; thus you can instantly access the latest version of your files locally, via web browser, and using mobile apps too!
Sync storage does not impact your backup storage. Sync storage limit matches your backup storage limits.
You need to activate Sync in your IDrive account just once – via desktop app, mobile app or web browser. Thereafter, you can easily access and sync files from anywhere! Although your mobile apps and web account are always in sync, you can always link only those computers on which you wish to keep files in sync, by enabling Sync on the desktop app.
You may also be interested in
On the Sync tab of the IDrive desktop app, click 'Activate Sync', and then click 'Proceed'. Sync gets activated in your account and links the particular computer.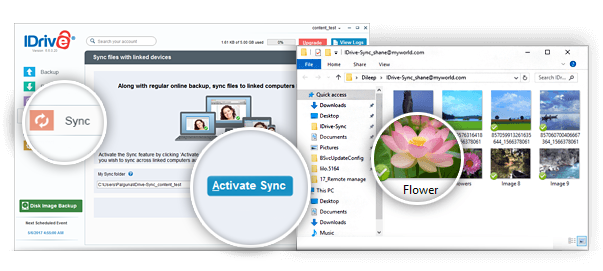 IDrive creates a unique local folder on the computer. Add files to this folder to sync them in real time. Whenever you modify files within this folder, the updates instantly reflect on all linked devices and vice-versa.
On the Home screen of mobile app, tap on 'Sync', and then tap on 'Enable Sync'. Use your mobile to sync new files to all the linked devices. Access the files synced from PC, Mac, or via the web. You can also select some synced files for offline access.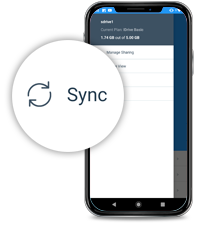 Log into IDrive.com, and on the Sync tab, click 'Enable Sync'. Upload or simply drag-and-drop files to sync them. Also, view, download and share files synced from elsewhere. Access the recently deleted synced files from Sync's Trash.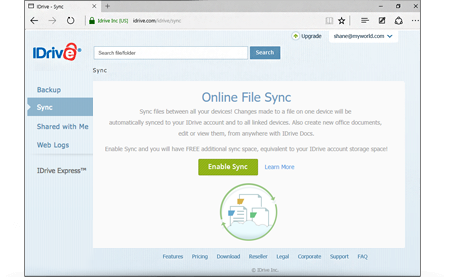 Easily share any number of synced files with anyone you wish via email.
You can share synced files from your computer, mobile device or via the web with your friends or associates for collaborative access. Once you login to IDrive.com, you will find that all the backed up and synced files shared by you are listed in the 'Shared by Me' tab. You can view the shared files, edit their access rights, and even discontinue sharing them.

* Important note on Sync: Usage of Sync functionality requires a separate activation. Sync is a separate service distinct from cloud backup. Sync functionality can be activated from the desktop or the Web application.