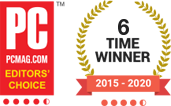 You won't find a better overall online backup service than the full-featured IDrive, especially for the price.
– Michael Muchmore

Faster and secure onsite VMware backup with IDrive
®

BMR
IDrive BMR offers secure onsite disk image backup to protect unlimited ESXi hosts and vCenter servers. Create virtual instances of your VMware VMs using the built-in hypervisor that is available with the BMR server, and recover this data during a data disaster.