Perform full, incremental and manual backup including multiple hard drives and partitions using IDrive BMR - for both client and VMware machines. You can backup data even when your computer is up and running with minimal computer resources.
Steps to perform backup of client machines:
Download the agent and run it on the computer you want to backup.

Note:

You can download the backup agent from the IDrive BMR's device web interface interface or the

IDrive BMR website

.

When you download the agent from the IDrive BMR's device interface, the device will auto-detect the agent.

In case you downloaded the agent from the IDrive BMR website, you will be prompted with the following options:
Select 'No' (recommended) if you want to automatically connect to any BMR device on your network.

Select 'Yes' if you want to connect the client to a specific BMR device and click 'Yes' to confirm. Enter the IP address. This is useful when you want to connect to a specific device in a network having multiple BMR device installed.
After the agent installation is completed, reboot your computer to enable faster incremental backups using the change block tracking driver.
The IDrive BMR device detects the agent and starts full backup automatically for the first time, as per schedule.
For subsequent backups perform the following steps:
Sign in to IDrive BMR. You can see the list of computers on the home page.
Click displayed at the left of the computer name and select 'Incremental image backup' or 'Full image backup' from the drop-down menu to start the backup.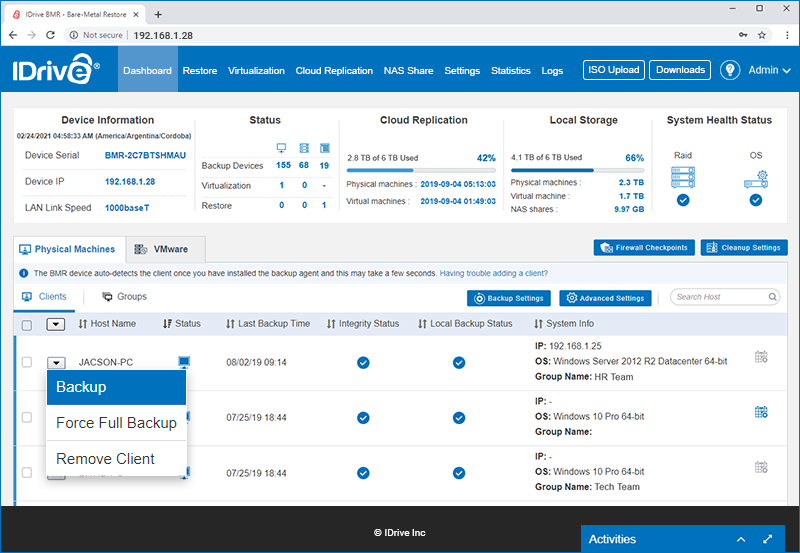 Note:
If you perform incremental backup, the IDrive BMR device will backup the updated files and folders.
If you perform full backup, the IDrive BMR device will backup the entire system including the operating system.
You can see the backup status in the 'Activities' section.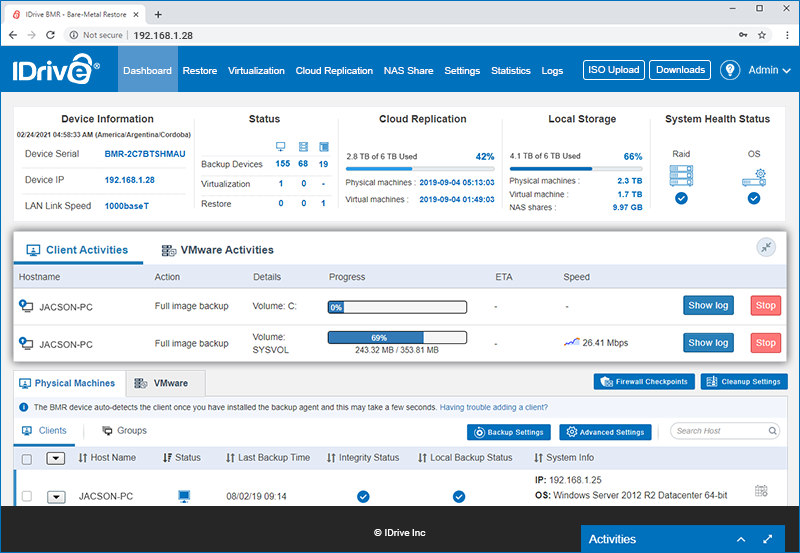 The data is backed up successfully.