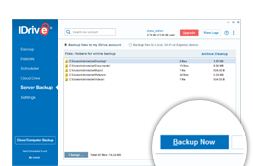 Windows Server Backup
IDrive is a secure, reliable and efficient service that supports Windows 2003 Server, 2008 Server, 2012 Server and 2016 Server.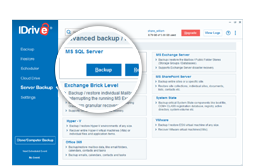 MS SQL Server
Our smooth Graphical User Interface allows you to easily configure and schedule backups without interrupting running MS SQL Server services.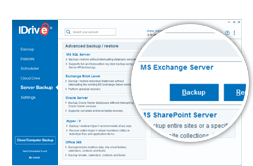 MS Exchange Server
IDrive bolsters your business continuity with Exchange server backup that doesn't interrupt operations in progress, and allows you to retrieve your entire email server.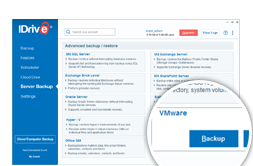 VMware
IDrive provides you the best VMware backup solution – with full and incremental backups. It supports VMware vCenter, and ensures a complete data protection for virtualized environment.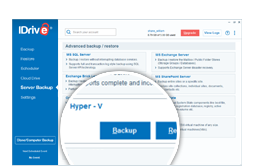 Hyper-V
IDrive Hyper-V Backup is a secure, easy-to-use and reliable solution to backing up and restoring your entire Hyper-V environment.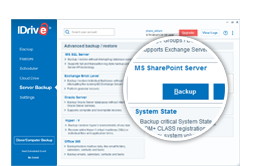 MS SharePoint
Efficient backup and restore for individual web pages or your entire domain. With granular backup for MS SharePoint Server, this solution reduces costs, improves scalability and protects data.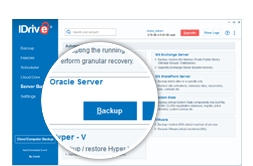 Oracle Server
Backup running Oracle databases or set up backups for a future date and time with our scheduler tool. Receive notifications upon completion of scheduled backups.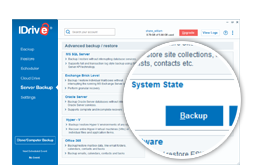 System State
Securely backup and restore important system state components to assist with business continuity in the event of a data disaster.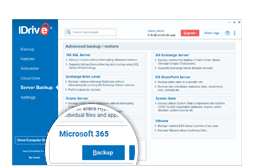 Microsoft 365
IDrive lets you take control of your organization's Microsoft 365 Exchange Mailbox data by securely backing it up without interrupting the operations in progress.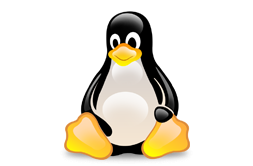 Linux Server
Easily scriptable and customizable online backup that simplifies command line scripting for efficient backups and restores from anywhere. Restore previous versions of any file in your account.