Why IDrive?
In this current digital age, it is critical to safeguard your data and online backup has emerged as a reliable and convenient solution for addressing the backup needs of all.
IDrive is an established firm and has been providing online backup services for more than 15 years. With over 100 Petabytes of data storage, IDrive stands among the leading providers of cloud storage and remote access services.
Join IDrive, and be part of a highly self-motivated and skilled bunch of technocrats. Here, talent is recognized, nurtured and enhanced at every level.
Benefits and Perks
Competitive Pay
Gratuity
Events
Onsite opportunity
Medical Insurance
Recreation
Awards and Recognition
Online Storage Space
Offshore Research and Development Center
IDrive Software (India) Private Limited
Unit No B 903, 9th floor, B block,
Brigade Tech Park, Whitefield road,
Bangalore - 560066, Karnataka, India.
Tel: 91-80-66995500/01
Fax: 91-80-66995504
Email: info.india@idrive.com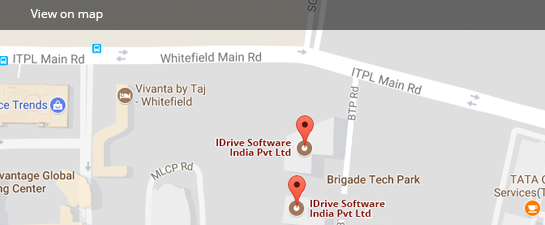 Branch Office
IDrive Software (India) Private Limited
9th floor, A block,
Brigade Tech Park, Whitefield road,
Bangalore - 560066, Karnataka, India.
Tel: 91-80-66995500/01
Fax: 91-80-66995504
Email: info.india@idrive.com