Frequently Asked Questions
If your question is not addressed below, please contact us through our feedback form and we'll get back to you shortly.


What is IDrive® Docs?
With IDrive Docs, you can create, edit and share office files with your friends or associates for collaborative access. This includes real-time online collaborative editing, which means multiple people can work on the same document at the same time, with no compromise on its encrypted file system. Furthermore, sharing settings allow you to control who can view and edit a shared file.
How do I create new documents?
You can easily create files such as documents, spreadsheets and presentations.
To create a new document,
Login to www.idrive.com and go to the 'Sync and Docs' tab.
Hover on 'New Document' and click 'Document'/'Spreadsheet'/'Presentation'. The chosen file type will be created.

Rename the document and press 'Enter'. Created document will open in a new window.
How do I search for a keyword within a document?
You can search for phrases, sentences or numeric data within a document easily. Just enter the keyword in the 'Search' field displayed on the bottom-left of the document to locate the items within the doc.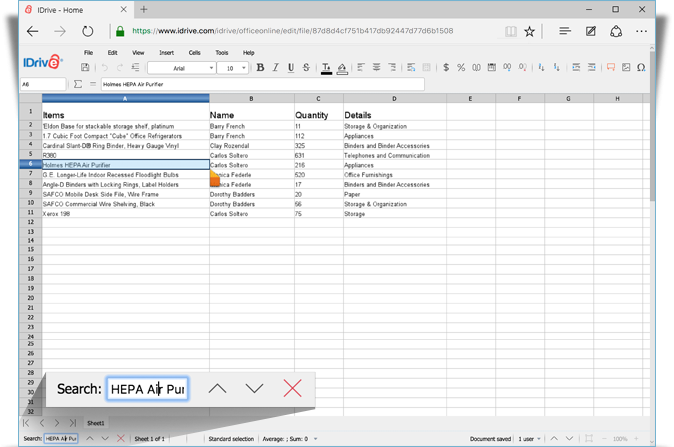 Can I share files from my IDrive cloud account?
You can share files or folders stored in your IDrive account from your desktop, mobile device, or via the web. The recipients should have an IDrive account in order to access the shared files.
How can I collaborate with my associates using IDrive Docs?
With the online document editing feature, once you share any office doc, the recipients with edit permission can edit the document in real time. All the changes done on the file are automatically saved, as they work.
You can also work on the document offline. All you need to do is, download the document, make the required changes and re-upload it.
My associate has shared a document with me. How do I access and work on it?
You will receive an email as soon as your associate shares a file with you. Once you click on the link in the email, you will be redirected to the IDrive login page. Login to your account to view and access the shared file.
You can later access all the shared files anytime from the 'Shared with me' tab in your IDrive account.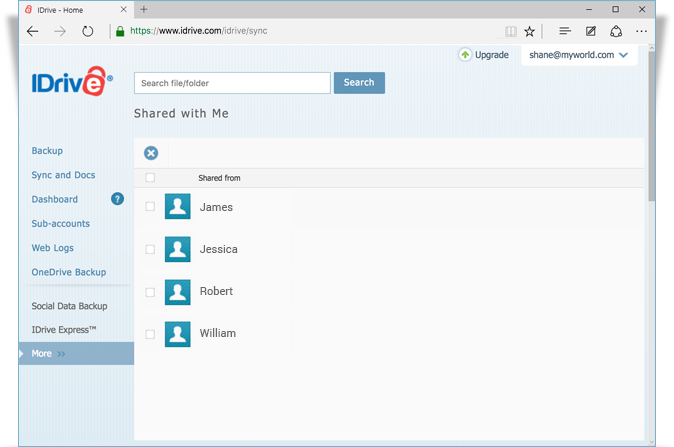 Can multiple recipients work on the shared document simultaneously?
Yes, multiple recipients can work on the shared document simultaneously for easy collaboration. They can edit the doc, insert comments, etc. and all their work gets saved in real time.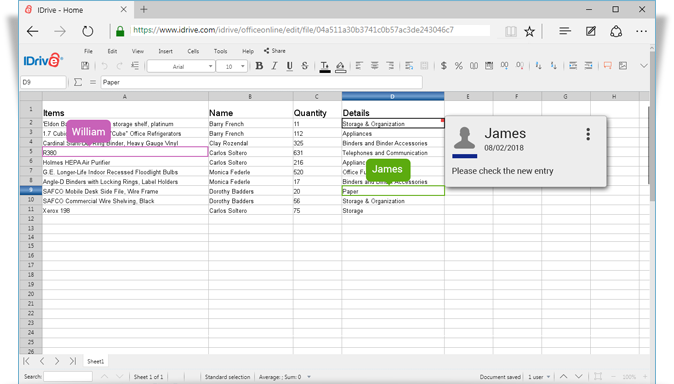 I have a document stored on my local computer. How can I edit it online via IDrive?
To edit a locally stored file online,
Login to www.idrive.com and go to the 'Sync and Docs' tab.
Hover on and click 'Upload Files'.

Browse and upload the document.
Your document is now uploaded, and you can now work on it online. Also you can share this document with your associates anytime.